Maligayang Pasko (Merry Christmas)!
by Rakkel Bacarro, exchange student from UP-Diliman
It is a holiday that is not that big of a deal here in Korea, but it is the biggest and most celebrated holiday in the Philippines and all over the world. It brings together families and friends, urges one to spend more money than they have, and causes radio shows to repeatedly play songs about snowmen and a certain bearded old man clad in a red suit. You guessed it right—it's Christmas.
Of course, because of cultural differences and heck, even weather, Christmas is celebrated in many different ways. Let's focus on the Filipino Christmas, shall we?
Preparations for Christmas don't start on December itself; it happens months before. Once the first "ber" month of September arrives, Filipinos feel that Christmas is coming very soon. This is especially true once Christmas decorations begin popping up. Colorful (and a lot of times blinking in fun patterns) Christmas lights are put up practically everywhere whether it's hanging across one's terrace or outlining a tree, Christmas trees of all sizes are set up in one's home, and beautiful parols or Christmas lanterns are used to decorate houses and even placed along roads. A parol is traditionally made of bamboo and has a star-shaped framework. Nowadays, it can be made of a wide range of materials and its basic star shape can be surrounded by other interesting shapes. It is an important Christmas ornament because it represents the star that was seen during the Nativity of Jesus. Christmas lights in the Philippines are not only visually pleasing; there are types which play Christmas tunes when plugged in.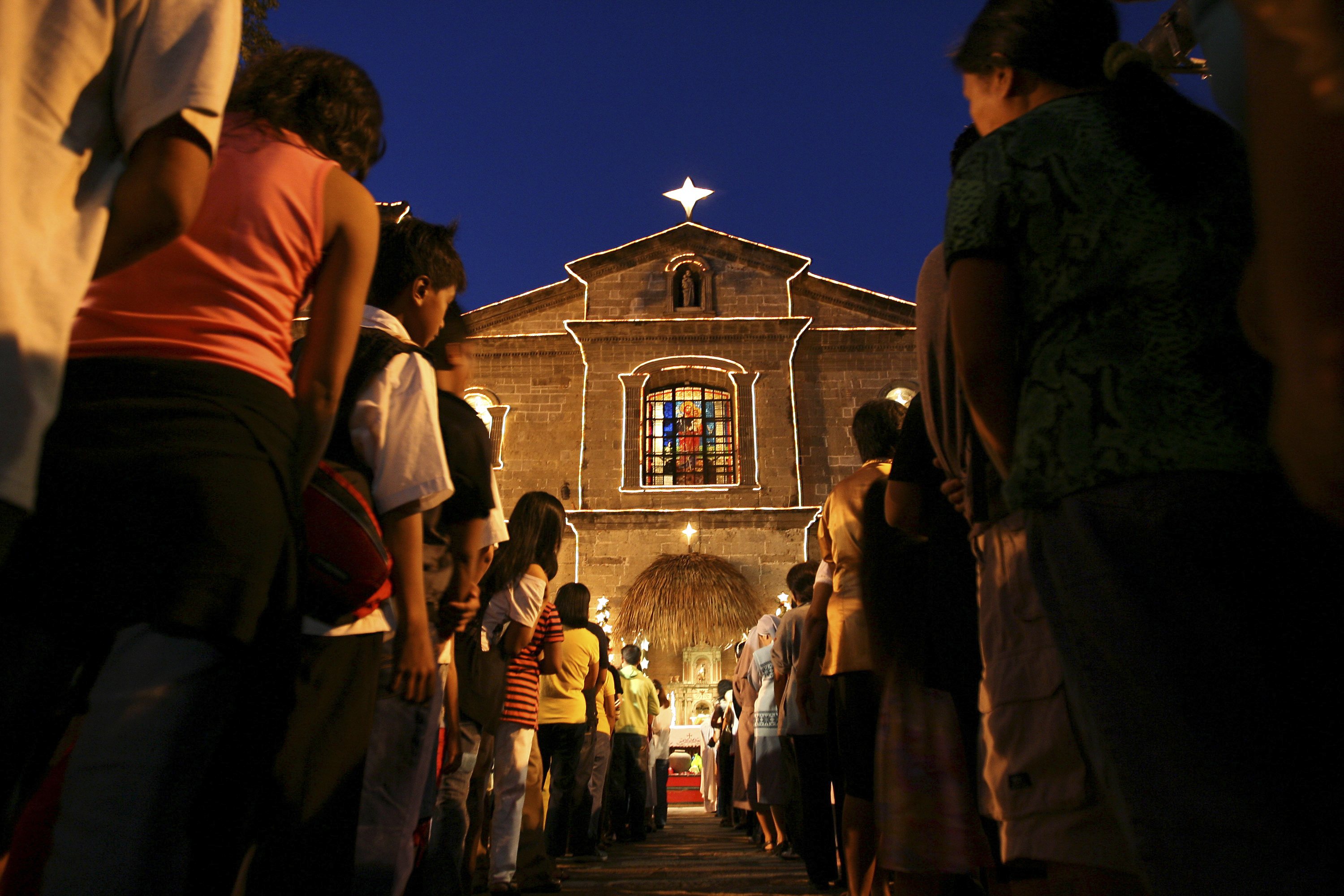 Speaking of tunes, you know Christmas is approaching when radio stations play Christmas songs like there's no tomorrow. They can be the traditional ones or remakes by popular artists. Also, Christmas time is also when children go outside in groups and sing Christmas carols in front of houses to spread the Christmas spirit. They have handmade instruments with them like tambourines made with bottle caps and wire or drums out of tin cans. They will appreciate it if you give them a few coins but even if you ignore them, they will always sing a tune at the end that goes, "Thank you, thank you . Ang babait ninyo , thank you," which translates to, "Thank you, thank you. You're very kind, thank you." Carolers can also be older people from the church or various organizations who are raising funds of some sort. Trash collectors, too, often ask for donations during Christmas season. When they come around, they hand around envelopes to every household. You don't have to give a large sum of money but it is a polite gesture to put even a 20-peso bill (equivalent to around 500 Won) inside.
Christmas is often associated with gift-giving so Filipinos more or less make shopping lists whether it's on paper or just in their heads. During the ber months, malls and stores hold month-long sales which attract really large crowds. Last-minute shopping is rampant so shopping establishments close as late as possible. There is an extremely popular area in Metro Manila called Divisoria where items are ridiculously cheaper than usual, especially when bought in bulk; it is a must-go place for people who have lots of friends or family members to give gifts to or for those who just don't want to spend too much. Actually, a lot of people go there even during non-holidays. Anyway, it's not the price but the thought which matters most for Filipinos. In addition, the same kind of gift can be given to a number of people but will vary in some way such as color. Filipinos don't mind that sort of thing very much. Exchanging gifts is also popular especially among the youth.
There is something else which is more important than gifts during a Filipino Christmas—food! In any Filipino event, even something as simple as a small get-together, food and drink have to be present or else it's nothing special. There's no particular food that has to be on the table like turkey during an American Thanksgiving dinner; instead, it's up to the family which food they would want to eat during Noche Buena or Christmas Eve. The meal depends on the family's budget and the number of people who are going to partake in it. The most common traditional foods to be found in the Noche Buena are hamon (Christmas ham), lechon (roasted pig), rellenong manok (baked stuffed chicken) queso de bola (cheese ball), lumpia (spring rolls), leche flan (flan), puto (general term for rice cakes), and fruit salad. Lechon consists of not just pig parts but one whole pig which is entire pierced through its mouth with a long piece of bamboo and is roasted over a large fire. It is not only served during Christmas but also during New Year and in festivals around the Philippines. The usual favorite part of Filipinos to eat in lechon would be the crispy, brown skin. Leftovers are used to make other dishes such as lechon paksiw (a dish cooked with vinegar and garlic). Not every household has it, though, as it can be a bit expensive.

A Filipino Christmas tradition that can never be forgotten is called Simbang Gabi (Mass at Dawn). It is a series of nine masses held very early in the morning and culminates with what is called Misa de Gallo or the mass during Christmas Eve. There is a belief that if you complete all nine, you can make a wish. It is not really a requirement to complete all the masses but one should at least attend the Misa de Gallo. Going to the church early is needed as it can get very crowded, but a lot of people come late armed with chairs so they will be able to sit wherever area they might end up in. Simbang Gabi helps to strengthen not only one's faith but one's relationships with other people as well. After Simbang Gabi, mass-goers usually feast on delicacies such as puto bumping , bibingka , and suman which are all rice cakes sold in small stalls outside the church during Christmas season.
After the Misa de Gallo comes the Noche Buena dinner. It is very important that the entire family eats together during this time. Once Christmas day arrives, clans come together and celebrate. Children are often brought to their godparents to ask for gifts which can be in the form of money. A lot of Filipinos come home from other countries from Christmas until New Year; it shows how much Filipinos value their families and friends.
A lot of Filipino families may be poor but during Christmas, both financial and social statuses don't matter. What Filipinos think of the most during this time of the year is the people they love and, of course, His birth. Without Him there would be no Christmas, no family, no nothing. That is the reason why even just once a year, Filipinos put so much effort into celebrating the fact that He ever existed at all. And, despite all the material things involved in celebrating it, the truth is that only one thing is needed in order to have the perfect Christmas: love.

출처.한기대신문 96호