G.I.ANT Inc. Receives Grand Prize, 2014 Social Venture Festival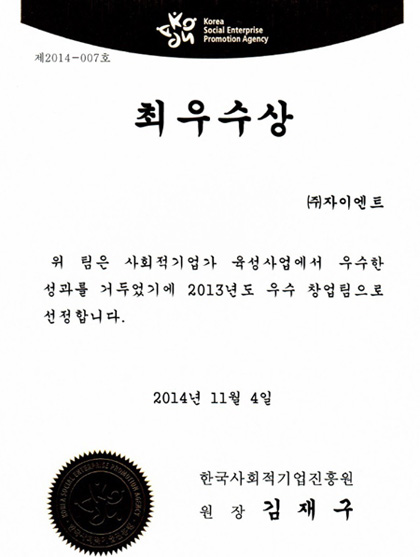 The 2014 Social Venture Festival was held at Coex Auditorium in Seoul, where G.I.ANT Inc., which was established by KOREATECH students, received recognition for winning the grand prize in the "Excellent Foundation 2013 Social Enterprise Promotion Agency" division. Over 1400 teams participated in Social Venture festival, and experts and enthusiasts of social enterprise watched each teams' achievements.
The 2014 Social Venture Festival is the place where social enterprises gather to share their accomplishments from the past three years. Most of all, this festival was held for the purpose of spreading interest and awareness for the founding social enterprises. Additionally, its purpose is for agencies to find a new social venture idea. Social Enterprises are organizations that apply commercial strategies to maximize improvements in human and environmental well-being, rather than maximizing profit gains. They may operate in the form of a charity organization. They perform business activities while pursuing a social responsibility directly. They don't aim to offer any benefit to their investors, except where they believe that doing so will ultimately further their capacity to realize their social and environmental goals. For example, "One World Health" is the famous social enterprise which develops and sells a medicine for undeveloped nations.
G.I.ANT Inc. designed culture contents over 50 times. In particular, the Owl Festival they established was a successful example of local recycling through culture contents. Originally this festival was associated with the "Korea Hot-spring Festival" which was held in Asan. At the event they offered stages for musicians and artists who are active in the underground venues and tried to introduce young people who haven't participated in the local event before. Therefore, it finished successfully with over 5000 people in attendance and it was a first time of success for local culture businesses which specialized in Chung Cheong Nam Do's resources.
Alongside the award ceremony event there was also the "Finding Star Social Enterpriser Project" event in the festival. This event is the final audition competition for the 13 enterprises that advanced to the final round. They were judged by an examiner group evaluation. The winner was "Asian Hub Inc.", a business for selling global kids' book which produced both Korean and foreign languages for immigrant families. The winners received One hundred million won for the prize.
G.I.ANT Inc. means, "Glocal Innovation Ant Incorporated" They consult and plan various culture contents specialized in each region. Their purpose is to help revitalize downtown Cheonan and the areas around Cheonan which have been reconstructed in the past. They pursue social responsibility by improving the downtown culture scene.
Their local culture business helped G.I.ANT Inc. to be awarded the grand prize at the "2014 Social Venture Festival" Additionally; they obtained certification as a preliminary social enterprise of Chung Cheong Nam Do.