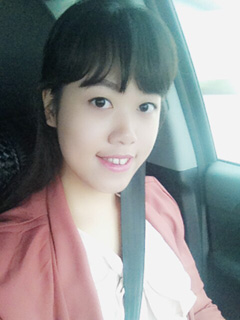 Hello, everyone! I am Kwak Bo-Ju(Huo Bo Zhu) from Guangdong province in China. It is wonderful to introduce myself and share my own story.
I came to Korea last year in 2013 and studied Korean for a year at KOREATECH. However, I finally will become a full-time student of this university majoring in Industrial Management starting from 2015! You may say that it will just be the same as before since I have already spent one year in Korea but I know that it's going to be very different and I'm so excited about that.
I was born in 1989 and I am telling you this because I heard that age matters in Korea. I am an only child so my parents who took much interest in my education have always tried to inspire me through communication with others. Thanks to them, I have grown up without too much difficulty. With the encouragement from my parents, I graduated from my university in China majoring in Management. Then I worked for Interpark, a Korean enterprise which is an online shopping mall. I made a lot of friends from Korea while I was working there and I started to like Korea, and at the same time it made me wonder about what makes Korea so special. I also began studying Korean since then and decided to study more about management in Korea.
Some of my seniors from my same university in China introduced me to KOREATECH and that was the first time I had heard about it. I was still hesitating to choose this university but as soon as I heard that KOREATECH is the best university of Human Resource Development, I made up my mind. There was no reason not to choose this great school. It was perfect for me, especially because of the fact that KOREATECH was ranked number one in students' satisfaction and that it emphasizes practical, hands-on knowledge. I am so happy that I'm going to study at this university. Though when I arrived here, I was a bit surprised to see that the campus was surrounded mountains, nevertheless I began to love that aspect because it was actually quiet and peaceful. It was much better than hearing all kinds of city noise like I did in China.
After living one year in Korea, I would say that I have had many new experiences but the most special one that I remember was KOREATECH's school festival during 2nd semester. I never thought that famous singers and rappers could visit the campus just for a school festival! We did not have any public figures come when we had school festivals back in China. Of course we had some performances but none were that big because only the students performed. Not only that, I was shocked when I saw most of the students were drinking much more than any students at my previous university in China. After I watched everybody having such a great time, I wondered if it would also be like that during freshman orientation. I still cannot even imagine exactly how it will be. Right or wrong, good or bad, I'm looking forward to facing all of the unexpected things and experiences waiting for me.
I still have four more years to think about my future while studying at KOREATECH but now I have a big picture of my goal. I want to work for trading company after graduation. It will be a dream comes true if I could get that opportunity through this fine university.